The Clinic
The East Bentleigh Medical Group (EBMG) has been providing family medical services to the local community since the mid-1950s. We pride ourselves on being a very professional organisation while preserving a friendly and welcoming atmosphere.
The EBMG is accredited by the standards set down by the Royal Australian College of General Practitioners.
EBMG has 16 GPs supported by a team of nurses, podiatrists, psychologists, a physiotherapist and experienced receptionists.
A full range of clinical services is provided, including family and general practice, residential care visits, on-site pathology and excellent connections with specialist medical services and local hospitals.
We welcome all new patients and we have a bright children's playroom to keep the kids busy. Call our friendly receptionists on 9579 2077 or book online.  We have both male and female doctors available, and plenty of appointment times outside business hours.
New Patients
At East Bentleigh Medical Group, we warmly welcome new patients and families.  Your first consultation with us is usually 30 minutes where we will discuss your medical history.  After that, we can request a summary of your medical notes from previous surgeries.
Children under 16 and pensioners are bulk billed during the week and we are open on weekends and public holidays for your urgent medical problems, staffed by our caring doctors and friendly staff, so you will always see a familiar face.
Please call us on 9579 2077 to make your initial appointment.  More information on our practice is available on our Practice Information Sheet, and you can also print our New Patient Registration Form and bring it completed to your first appointment.
We look forward to caring for you.
Skin Cancer College Accredited Doctor service
A comprehensive skin check is vital for early detection of skin cancer. Doctors displaying this symbol have undertaken very high level training and testing with the Skin Cancer College Australasia.
This easy to recognise symbol allows you to quickly identify doctors who have proven skills and knowledge in the diagnosis and management of skin cancer.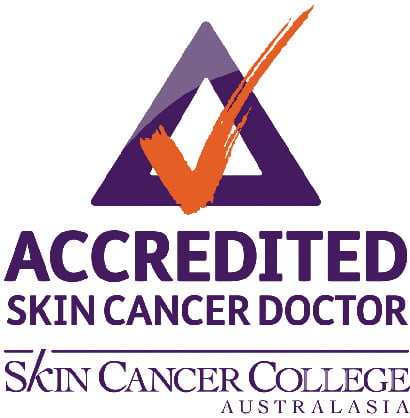 After hours and emergencies
This practice provides 24-hour care for patients of the practice. A doctor can be contacted after hours by phoning 9579-2077. A recorded message will direct you to phone the locum service on 13 74 25 or for more information about National Home Doctor click here .
For a medical emergency, please dial 000 and ask for an ambulance.
Phone calls to your doctor
Doctors in this practice may be contacted by telephone during surgery hours. When your doctor is with another patient, the receptionist will take your message and, if considered appropriate, the doctor will return your call as soon as possible.
If you need the help of an interpreter, find out how at the Australian Government Translating and Interpreting Services website.
Obtaining pathology results
EBMG has an on-site pathology collection centre (Melbourne Pathology) for your convenience.
Pathology results are best given by a follow-up consultation. However, with prior arrangement with your doctor, some of the more 'routine' test results can be obtained by phoning the nurse at the surgery on 9579 2077 between 2.00pm and 3.00pm, Monday to Friday.
Requesting repeat prescriptions
You may request prescriptions only for long term medications. At the present time (i.e. while there are Covid-19 restrictions in place), these requests should generally be made via a Telehealth consultation. If you have not been seen for at least 3 months, then the receptionist will suggest a face-to-face appointment with your doctor.
Requesting repeat referrals
Referral requests follow a similar procedure to prescriptions. A referral will only be given without a consultation when it is for a routine specialist review. At the present time (i.e. while there are Covid-19 restrictions in place), these requests should generally be made via a Telehealth consultation.
Longer consultations
Appointments may be made by phoning 9579-2077 during practice hours or via our website by clicking the book online tab.
Longer consultation times can be arranged if required. It is best to check with the receptionist if this will be needed, but common reasons include:
Complicated or multiple problems
When lengthy counselling can be anticipated
Insurance or pre-employment medicals
6-week post-natal check
Cervical screening smear test
Home visits
Home visits are available if you are a regular patient of the practice and your condition prevents you from attending the surgery. You must also live within a reasonable driving distance from the clinic. When possible, phone the clinic first thing in the morning to arrange a home visit.
Computerised reminder system
With your consent, the clinic can remind you by letter or SMS when a planned clinical test or consultation is due.
Covid-19 Notice:
While the risk of coronavirus continues, our doctors are continuing to consult face-to-face but are able to provide Telehealth consultations if necessary. Bookings for either can be made with our receptionists or online via our website. Please note that our evening hours are slightly restricted during this time.
To minimise risk, some changes to our practice are currently in place until further notice:
Kindly do not present to the clinic without an appointment
Please phone our receptionists who will advise on making the appropriate appointment, including Telehealth 
If you have a minor cough or cold but have been advised to attend the clinic, please wait in your car and phone us upon arrival
If you are experiencing more significant respiratory symptoms (fever, cough, difficulty breathing or other features of an acute 'cough and cold'), please call us but you might be advised to attend a specialised Covid-19 testing clinic, e.g. the one near the Monash Medical Centre at 239 Clayton Road, Clayton (further information is available here).
Further Information
For the latest general medical advice and information on Covid 19, go to the Department of Health site by clicking here.
For personalised advice, call the National Coronavirus Health Information Line on 1800 020 080.
For advice from the Victorian Department of Health and Human Services, call 1800 675 398.
If you require translating or interpreting services, call 131 450.
However, if you have any concerns about your health, you can call us on 9579 2077 for further advice.
Very stringent infection control measures have been put in place at EBMG. We are also scrupulous about social distancing. For example, we are limiting the number of people sitting in the waiting room at any one time. You should therefore be confident that we are doing our utmost to provide you with a safe and professional service during this difficult time.
A big COVID 19 thank you!
East Bentleigh Medical Group decided to take part in the governments' roll out of the COVID 19 vaccination program because we felt strongly about doing our bit to help our patients, particularly our older and vulnerable patients who would find it difficult or confronting to get out to a state- run hub.  
We have asked for the maximum number of vaccinations possible and have requested more whenever the opportunity presents but we have to work with the allocation we are given.  We stick to the eligibility criteria that the government recommends and since the beginning we have vaccinated more than 2,500 patients.
There is much work carried out before you arrive for your vaccination, and work to be done afterwards – it is not just a matter of injecting someone's arm.  Our patients' safety during and after receiving the vaccination is our number one priority. 
To operate a covid vaccination clinic it takes one receptionist, one nurse and 2 vaccinators – our staff of 15 doctors, 8 receptionists and 5 nurses staff these clinics, which are run two evenings a week, every lunchtime and every Saturday.  Those same staff are working their normal hours to keep the surgery operating at full capacity, Monday to Sunday so we can look after the health and well being of our patients for all things non-covid related.
Our staff are members of this community who have children home schooling, partners who have lost work due to lock downs, elderly parents isolating alone and family in other countries they miss.   Please remember we are doing our upmost to help our patients through this hard time and dealing with the pandemic ourselves.  If we can't vaccinate your friends' neighbors' partner who is not a patient with us, please remember there is good reason behind it – and that their own doctors surgery my have decided not to partake in the vaccination roll out!     
We are doing the best we can and we are so grateful for your gratitude and kind words.
Thank you, from the staff and doctors at EBMG